HOME
WOMENS MODEST SUSTAINABLE SPORTS AND CASUAL WEAR.
THE WORLDS FIRST SUSTAINABLE MODEST SPORTSWEAR AND LOUNGEWEAR FASHION BRAND. USING THE FINEST ECOLOGICAL MODAL® AND TENCEL® FABRIC.
SUSTAINABLE AND ETHICAL MODEST ATHLEISURE
The world's first Sustainable & Eco-friendly Modest Athleisure brand.
EMPOWERING WOMEN GLOBALLY BY DELIVERING ORGANIC & ETHICAL SPORTS AND LOUNGEWEAR FOR THE MODEST, MODERN INTERNATIONAL FEMALE.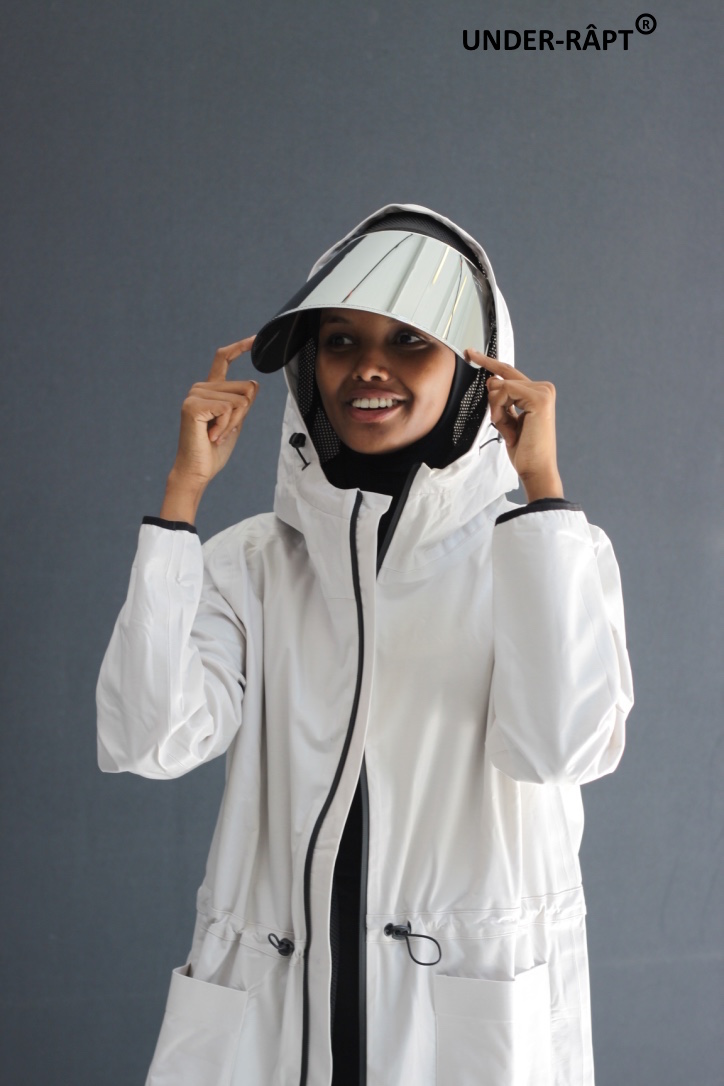 MODEL HALIMA ADEN WEARING UNDER-RÂPT
MODEL HALIMA ADEN WEARING UNDER-RÂPT
FRONTING THE CAMPAIGN FOR 'CONTEMPORARY MUSLIM FASHIONS' EXHIBITION SAN FRANCISCO.
UNDER-RÂPT has been commissioned by the fine Arts @deyoungmuseum in #sanfrancisco and #Frankfurt to showcase our garments as part of their 'contemporary Muslim Fashions' Exhibition Opening Sept. 22 at de Young Museum in San Francisco.
It is very exciting and honourable to have the sweetest HALIMA ADEN - the most influential ' #hijabi ' #model fronting the advertising campaigns for the exhibition & wearing our 'Organic Hooded Baselayer' and 'Organic Raincoat'.
UNDER-RÂPT'S AMBITION
Conquering the everyday lifestyles of today's women worldwide, UNDER-RÂPT challenges the 'stereotypes' by posing as a platform between religious and cultural values and influential western fashion; confronting the stereotypes by offering innovative and original product.
With an emerging modest market and a thriving sports and healthy lifestyle retail market, UNDER-RÂPT focuses its attention on blending unique style, fabric technology and reliable activewear to enable women globally to LIVE, PERFORM AND EXPRESS.
Whether it's at those morning HIIT sessions, energetic workdays, laid back brunches or revitalising yoga sessions, UNDER-RÂPT presents trend-driven, Modest Athleisure for the health conscious, fitness savvy and modern 'modest' millennials who express the dynamic urban-city lifestyle. UNDER-RÂPT presents comfortable, relaxed and ready-to-wear loungewear pieces whilst the core sportswear range focuses on practical, timeless and resourceful sport shapes. Inventive fabric technology and essential detailing such as waterproof reflective taping; lightweight zippers and adjustable elastic waistbands have been implemented into designs to enhance the effectiveness of sports and active-wear.
Inspired by brands such as YEEZY, FENTY and VETEMENTS, UNDER-RÂPT champions over-sized and relaxed silhouettes. Gender fluidity is largely expressed through fashion and the guidelines to dress modestly mean that over-sized forms are no longer regarded as unfeminine or deemed 'unfashionable' but instead are an expression of personal style and individuality. UNDER-RÂPT's product has been mindfully designed not only to deliver flattering and durable, organic sportswear but also satisfy 'modest' females whom seek out product suitable for mixed gender classes, Pre/Post pregnancy or conforms to their religious and social values. We aim to surpass any previous mainstream limitations.
As a lifestyle brand, UNDER-RÂPT does not only aim to inspire and encourage personal health, but also to promote sustainability through all stages of the business – starting at the very core of our product. UNDER-RÂPT engineers all of it's own fabric from ecological and sustainable sources to ensure that we are not harming any of our agricultural land and environment (all of our garments have licensed organically certified swing tags attached). Our fabrics are specially made and have been tested to guarantee moisture control, kind to the skin, odour resistant and breathable - making our product ideal for sports and loungewear. By contributing to our environment and global welfare we ensure that we are conforming to our consumer's social, ethical and personal values.
This marks UNDER-RÂPT as the first global sustainable 'modest' Athleisure brand.
(PLEASE VISIT OUR +ABOUT PAGE FOR MY INFORMATION ON SUSTAINABILITY AND BRAND INFORMATION)
UNDER-RÂPT AT LONDON MODEST FASHION WEEK 2018